Better Air,
Better Learning
Did you know that improving air quality in our schools results in better grades? With improved air quality, studies have shown that student test scores and cognitive function increase, making it easier for students to learn and achieve their full potential.
Investing in our Schools
is Investing in our Children
Employing our state-of-the-art needlepoint ionization technology will help to control airborne pollutants including dust, pollen, VOCs, odors, bacteria and viruses, reducing absenteeism as well as limiting asthma and allergies.
So whether it's COVID-19, influenza, or RSV, it's more important than ever to make sure that air in schools is clean and safe. Air+ products can deactivate certain viruses and neutralize other pathogens, creating a safer educational environment while producing no harmful byproducts such as ozone and requiring no maintenance.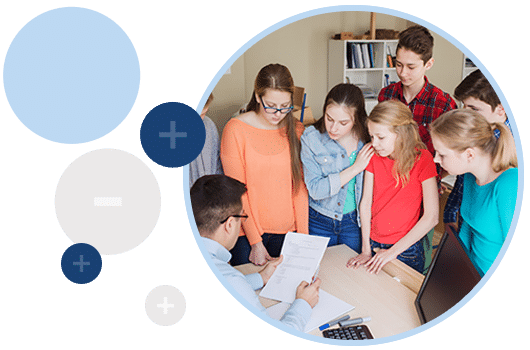 This video is based in an open office setting, but the size and occupancy density are similar to a classroom making it highly relevant to educational facilities. Do you have question? See our
Frequently Asked Questions
.
Improve Air Quality,
Save Money
Outside Air Reduction Reduces HVAC Equipment Sizes and Ongoing Energy Use
By leveraging ionization technology from Air+, consulting engineers and building owners are able to implement ASHRAE's Standard 62.1 IAQ Procedure (IAQP) for either new construction or renovations. This approach reduces outside air intake by up to 66%, delivering first cost savings by downsizing HVAC equipment, lessening ongoing energy use and improving indoor air quality. Air+ simplifies the use of the IAQP by providing the required ASHRAE calculations and related specifications.